Electronics Cooling (FloTHERM)
Siemens is the only company that offers a comprehensive solution to model and simulate complex electronics cooling as well as test instrumentation to verify models and debug reliability issues (see Electronics Component Thermal Test and Characterization). Trilogic can help your company implement an Electronics cooling simulation and modeling strategy with the FloTherm Family of products.
FloTHERM is the market-leading electronics cooling simulation software with more installed seats than all other electronics cooling CFD software. For over 25 years FloTHERM has supported a huge customer base, including almost all the major blue-chip electronics companies in the world. FloTHERM supports chip, package, board and system design, and even extends out to datacenters. It is designed as a vertically-specialized solution for the electronics thermal market through its innovative SmartPart technology, extensive libraries, tailored and stable solution technology, state-of-the art compact thermal modeling techniques and parametric analysis & optimization functionality. FloTHERM features advanced interfacing technologies for working with EDA data from Mentor Graphics, Cadence, Altium and Zuken and is backed by a family of ancillary solutions for PCB (FloTHERM PCB) and package modeling (FloTHERM PACK and FloTHERM IC).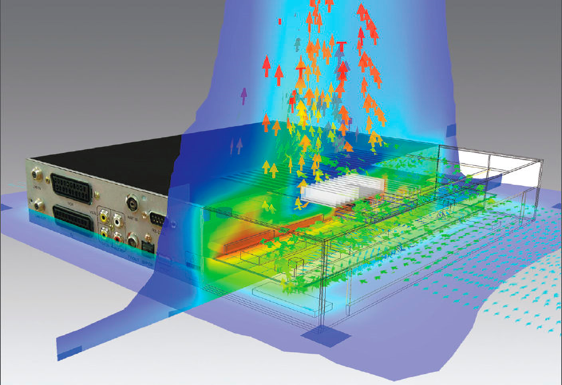 FloTHERM® XT, like FloTHERM, has been designed from the ground up as a full-scale, vertical solution with a customized GUI and focused functionality appropriate for electronics thermal applications. Building on FloTHERM's ethos and success, and FloEFD's meshing and solver technology, FloTHERM XT supports the SmartPart and Library functionality that first evolved in FloTHERM, but brings a CAD-centric approach to thermal engineering through its best-in-class CAD connectivity and advanced CAD modeling capabilities. It also features advanced EDA interfacing technologies with best-in-class interoperability with Mentor's Xpedition Enterprise suite. FloTHERM XT offers seamless simulation capabilities for all stages of the mechanical design process (concept, architecture, detailed optimization & verification). It enables a true integration between EDA and MCAD design flows, through concurrent engineering simulation, and extends our reach in addressing the needs of a rapidly evolving electronics thermal sector.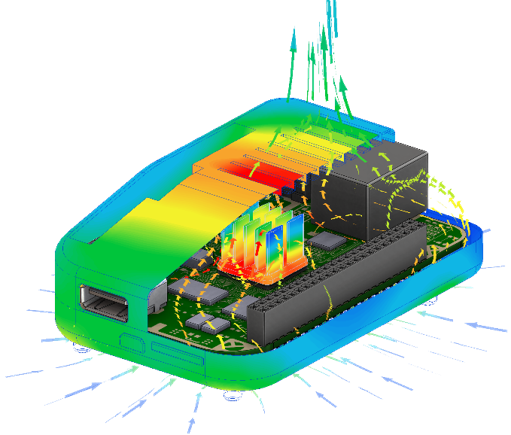 FloEFDTM is a general-purpose CFD code capable of analyzing a wide variety of fluid-flow and heat transfer phenomena across various industries and applications. It is unique in that it is available as an embedded solution for most popular MCAD systems, and thus fully integrates into mechanical design engineering workflows. For electronics applications, FloEFD's Electronics Cooling Module offers a subset of thermal simulation capabilities tailored for mechanical design engineers who encounter electronics cooling alongside other design challenges in product development; and require some capabilities to reside inside their MCAD design environment for consistency and productivity reasons.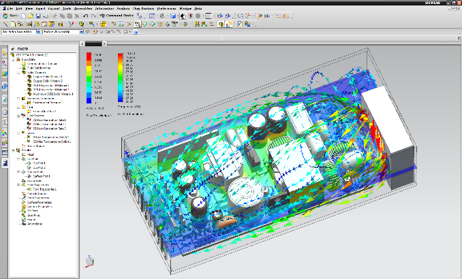 FloTHERM PACK (www.flothermpack.com) is a web-based software program which produces reliable, accurate thermal models of IC packages and associated parts with the minimum of effort. Designed to fulfill the industry´s need for a rapid response to innovations in packaging design, FloTHERM PACK is a web-based application that contains a parametrically-driven menu for each part type. To take advantage
of FloTHERM PACK, use your standard web browser to enter data describing the IC package you want to use. For example, if you want to build a model of a ball grid array (BGA) package, the typical data entry items would include: number of balls, substrate conductivity, die size, and substrate metal layer thickness and coverage.
If you don't have detailed information about the internal geometry of your part, the JEDEC Library SmartPart wizard in FloTHERM PACK lets you create "best guess" thermal models quickly and easily. All you need to do is answer three or four questions about your component. Utilizing built-in intelligent rules based on common industry design practices, the SmartPart wizard derives the rest of the information needed to generate the model.